15 Best Digital Marketing Blogs to update your knowledge about Online Marketing in 2016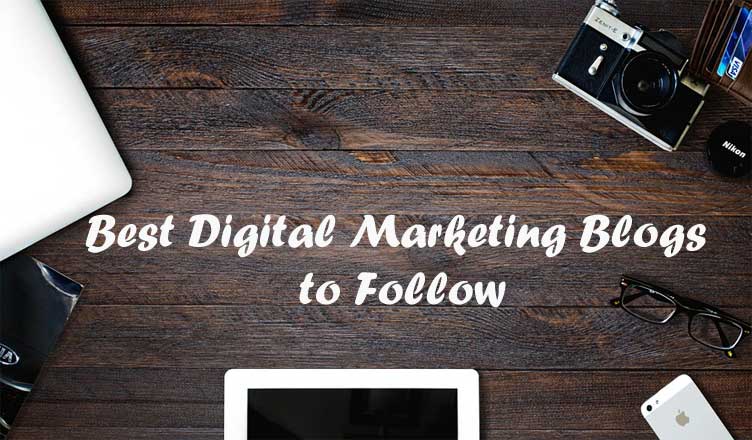 Self learning is the best learning if you want to master any skill or art. Digital marketing, unlike any other academic discipline, is a combination of training, experience and innovation that happen over a period of time. Hence, anyone can become a digital marketing expert by following some basic rules, updating their knowledge and rigorous practice.
To update your knowledge and information about online marketing, you need to follow the experts. Though it is good to learn from mistakes, it is always better to listen to what others did in their journey to become an online marketing expert. By following experts, you can boost your own knowledge and experience. The list presented here boasts the blogs popular for content they cater to visitors.
We recommend you to follow the blogs regularly and apply the strategies followed by the experts.
Want to become a Digital Marketing Expert? Follow these Top Digital Marketing Blogs
#1. QuickSprout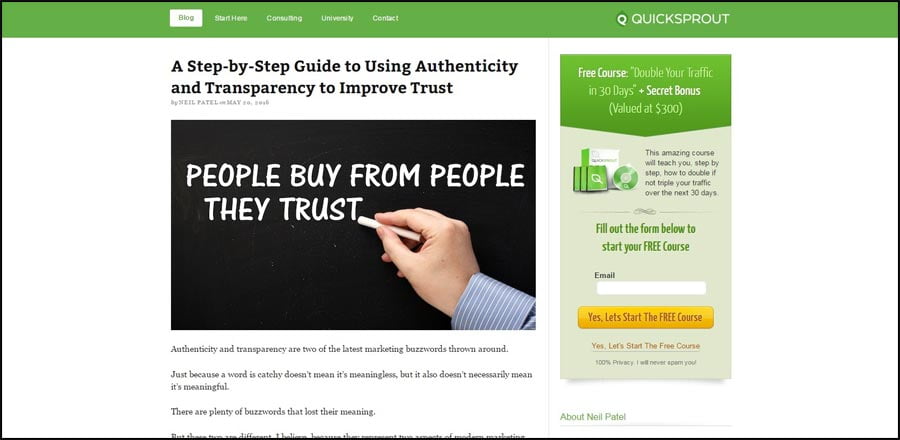 Neil Patel is a celebrated digital marketing expert, who shares his knowledge and experiences to all. QuickSprout is blog curated and mentored by Neil on regular basis. Neil's posts can certainly help you learn how to increase traffic on websites. Besides QuickSprout, you can also follow Neil Patel on his other blog.
#2. ShoutMeLoud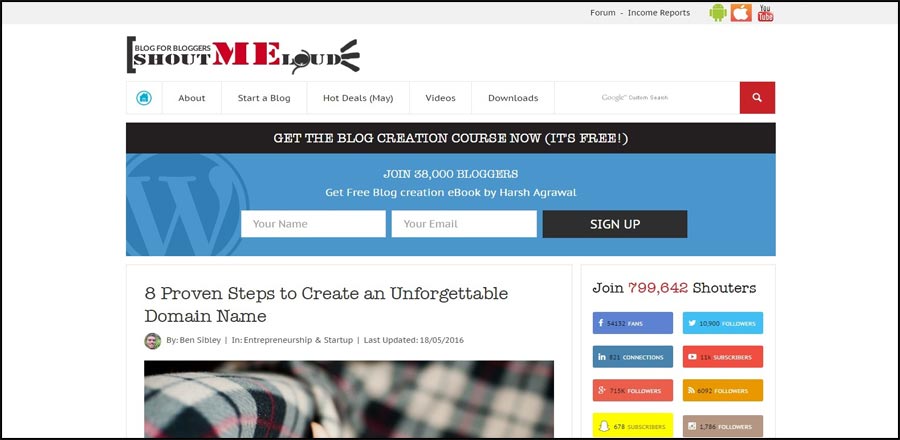 ShoutMeLoud is run by an Indian Harsh Agrawal, who effectively writes about topics ranging from blogging, email marketing, mobile marketing to SEO, social media & marketing, video marketing, webhosting, WordPress etc. Apart from these categories, Harsh extensively discusses on entrepreneurship & startup, life hacks, make money online and more.
#3. Content Marketing Institute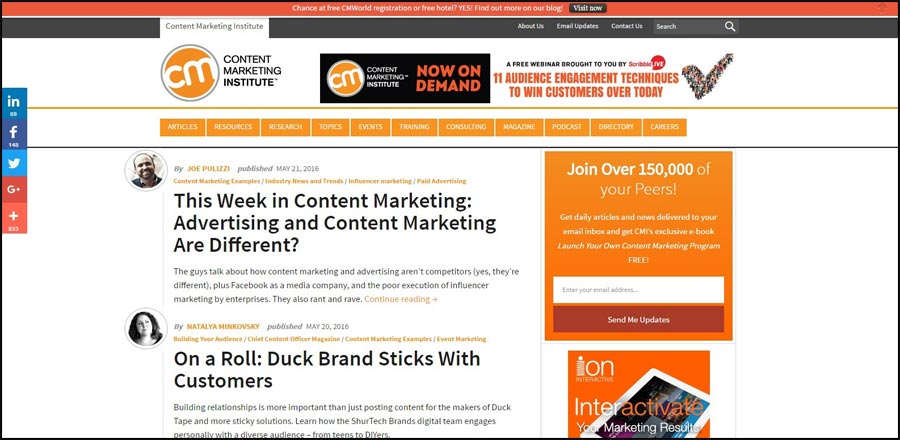 Explore: Content Marketing Institute
Known as CMI, Content Marketing Institute is a confluence of like-minded brains, who share interesting inputs and content on digital marketing. The flavours of content include social media marketing, online branding, content strategy, content marketing and others. If you want to explore content marketing arena, you must subscribe to this blog.
#4. Hubspot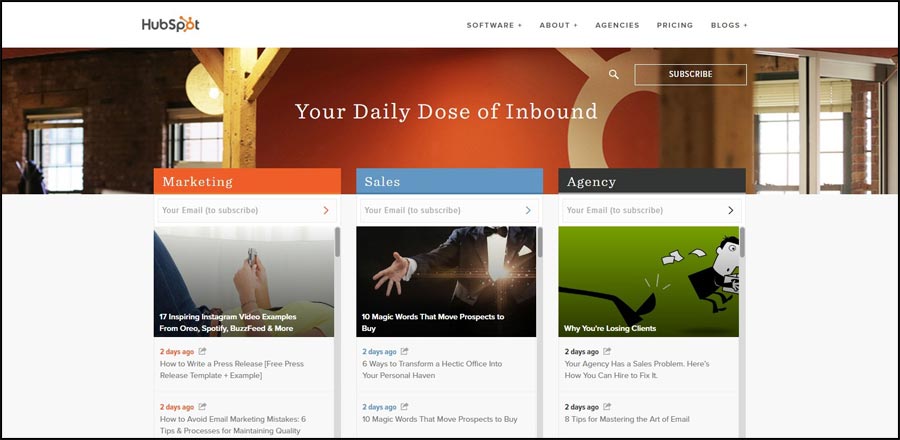 If your guest post is approved and published on Hubspot, you should consider yourself luckiest person on the earth. Hubspot is a familiar name in the world of digital marketing; its content marketing strategies are followed by many and imitated by none. Once there, you must check number of eBooks to gain knowledge about online marketing.
#5. Social Media Examiner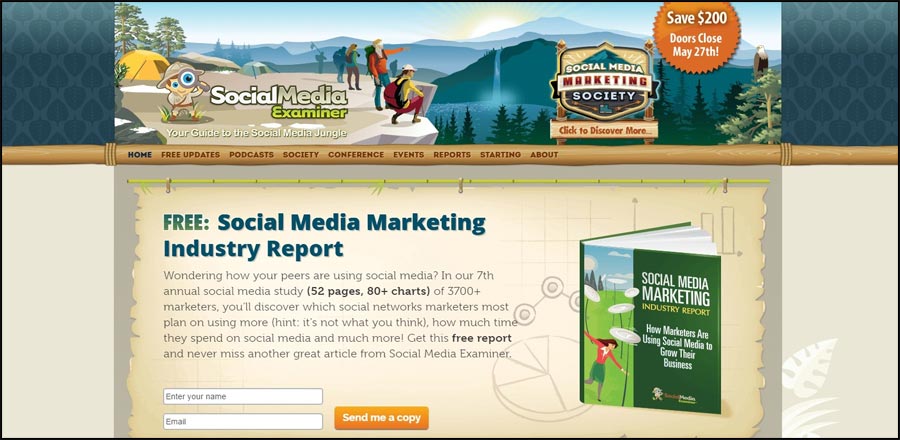 Explore: Social Media Examiner
The design of the websites takes you in to believe that you are browsing a cartoon channel for kids; at least it seems from its header image. As a matter of fact, Social Media Examiner is enriched with news and tactics prevalent in social media world. This is the world's largest social media marketing resource, which tells business houses to explore ways to connect with potential consumers, gather traffic, create awareness and boost sales.
#6. WordStream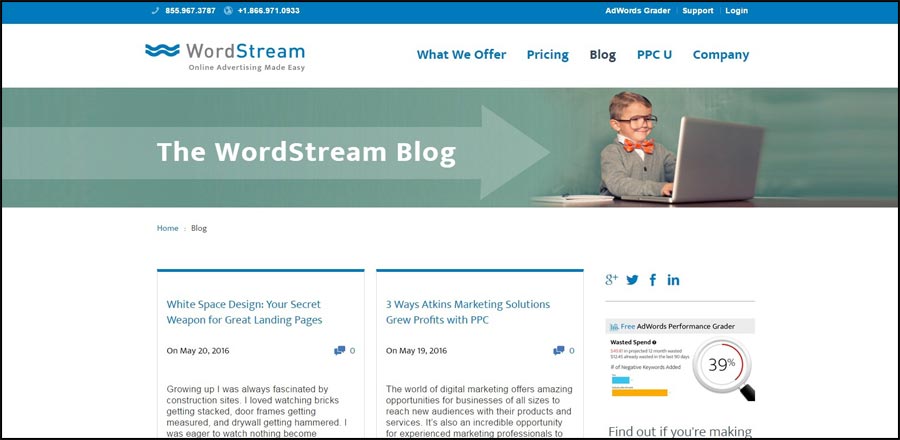 WordStream was started by Larry Kim, who is interested in production and marketing of any service/product. WordStream is led by Kim with his prolific content submission, which revolves around topics like Pay Per Click (PPC), landing pages, and conversion optimization. If you want to be a PPC expert, you should read this blog regularly.
#7. Convince and Convert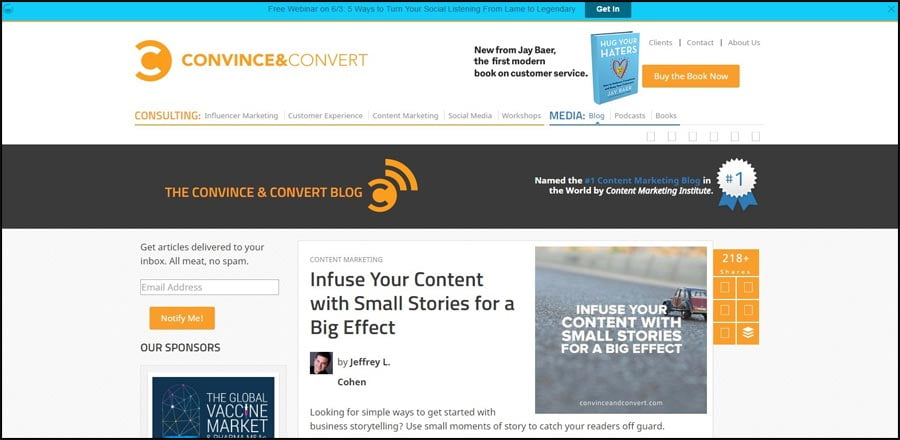 This blog works on the age old principle of marketing: Convince and Convert. This blog deals with a wide spectrum of digital marketing and therefore, it can be your one-stop solution for all digital marketing queries. If you are a student of integrated marketing solution (online), you should visit the blog every day.
#8. Buffer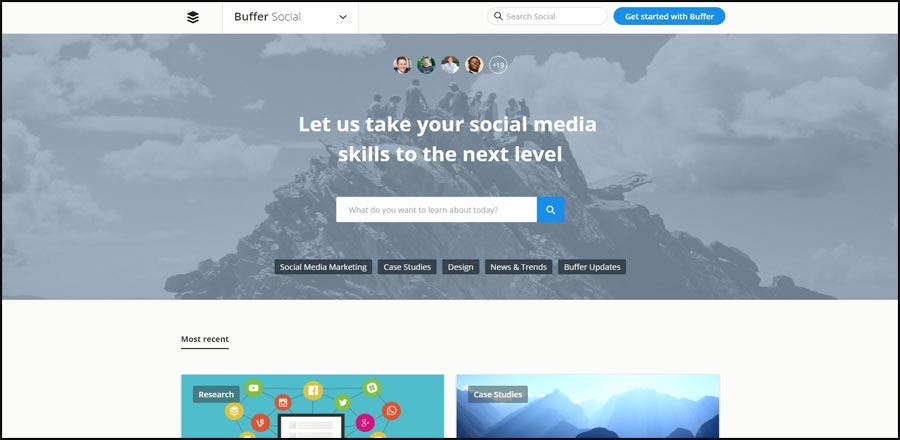 From the easily identifiable logo, you must have recognized Buffer. And I am sure you have taken it as social media scheduler. Think again! Buffer has to offer lot more than scheduling your posts on Facebook, Twitter, and Google Plus. This blog is a mine of content on social media. But wait, there is still something for digital marketing practitioners. Buffer offers tons of content on SEO, content marketing, social media marketing strategies and other digital marketing tips; also find case studies to learn the nitty-gritty of this discipline.
#9. Moz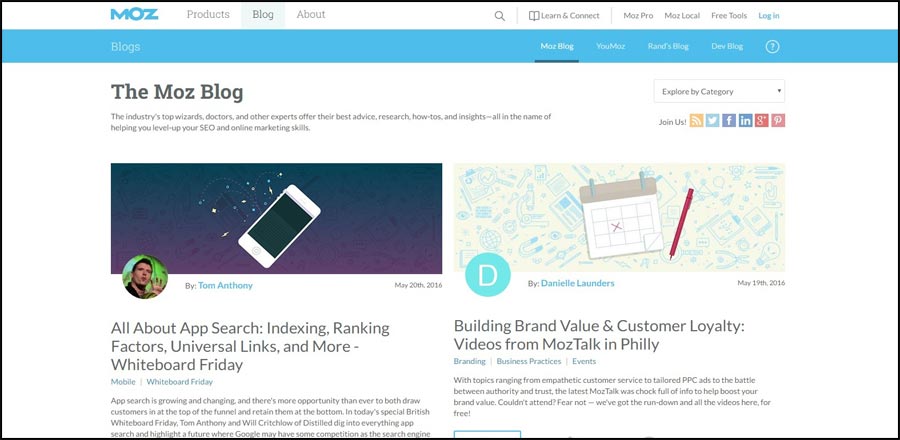 Digital marketing professionals can immediately vouch for the effectiveness of Moz, which is active since 2004. It is touted as the best source of information on Search Engine Optimization. Moz provides the latest information on digital marketing and professionals at Moz always ready to demystify Google algorithms of ranking. Moz content is reliable as their writers are highly skilled and experienced.
#10. Unbounce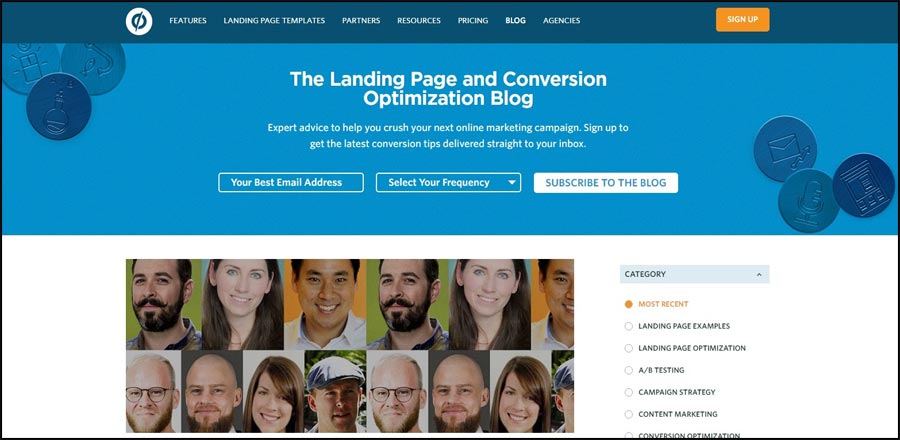 Conversion is the most important part of entire digital marketing exercise. Unbounce blog is centred around the conversion (lead generation or shopping of any service/product). Moreover, Unbounce also discusses A/B landing page build and testing tool. Also explore topics like campaign strategy, content marketing, copywriting, design, email marketing, mobile optimization, Pay Per Click, social media and more.
#11. Search Engine Land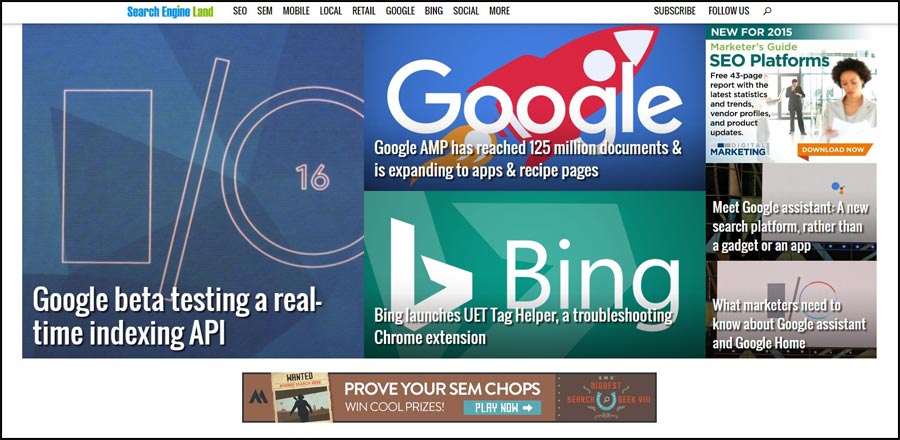 Under the able leadership of Matt McGee, Search Engine Land is another popular blog that offers everything about search marketing. Regular readers can take advantage of its breaking news, industry trends, feature announcements and product changes. Brand managers can follow experts, who contribute practical tips, tactics and strategies for running successful online marketing campaigns.
#12. Search Engine Watch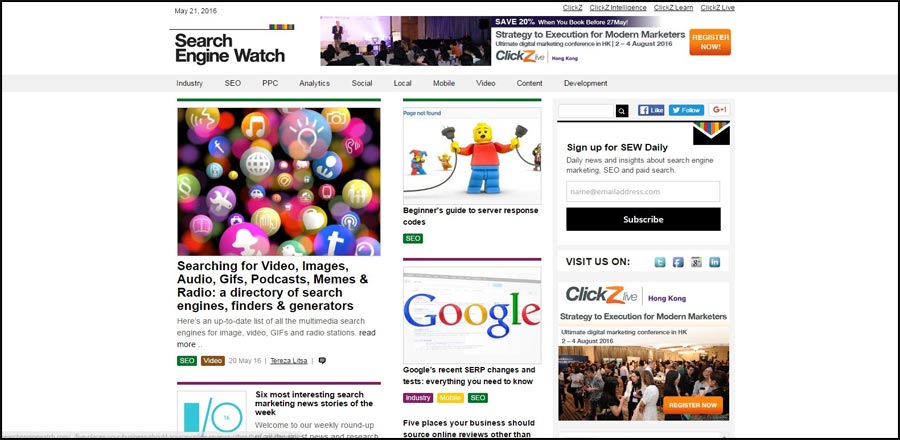 If you have entered the digital marketing world very recently, Search Engine Watch is your destination to reach. This blog gives tips and information about searching the web, analysis of the search engine industry and help to website owners, who strive to gain first page ranking of popular search engines.
#13. Search Engine Journal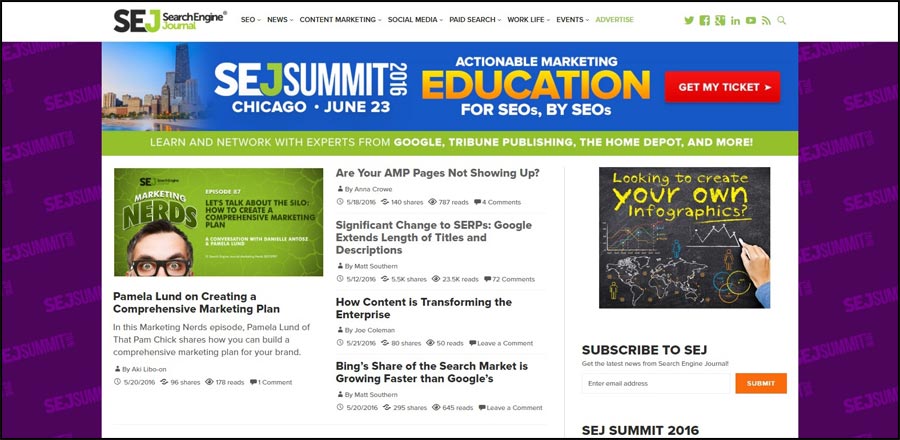 Explore: Search Engine Journal
Search Engine Journal was launched in 2003 and since then, this blog has uploaded unique search marketing content. What sets this blog apart from the list is real online marketing insight coming from digital marketing pundits – in-house and freelance experts. Keep yourself updated with latest trends, news, marketing strategies and leading lights of search engine industry.
#14. Marketing Land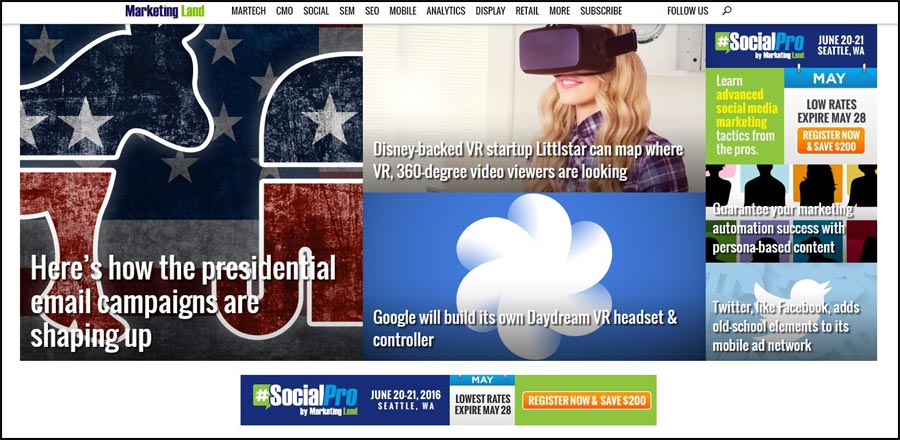 Marketing Land is a sister-concern of Search Engine Land listed above. Get to know everything on digital marketing industry from the experts – in-house and contributors. Latest news, popular trends, updated features of different operating systems, tips and tricks, and more to keep you informed about online marketing.
#15. JEFFBULLAS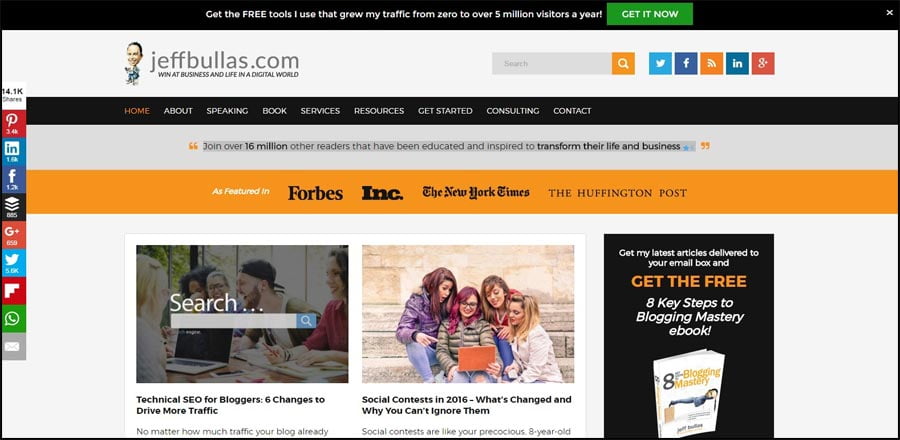 Featured in popular domains like Forbes, Inc., The New York Times, and The Huffington Post, Jeff Bullas is a website owned by the Jeff Bullas. This blogger is number one digital marketing influencer of 2016. Jeff is a strategist and speaker and has worked with global brands to optimize their online presence. Jeff uses his expertise in content and social media marketing, which includes Twitter, Blogging, Facebook, YouTube, LinkedIn, Search Engine Optimization and email marketing.
Apart from these blogs, digital marketing enthusiasts should follow experts on social media like Twitter, Facebook, and Google Plus. Do share your feedback with us and stay tuned for more interesting stuff on digital marketing.