10 Cities that can be the best launchpad for your startup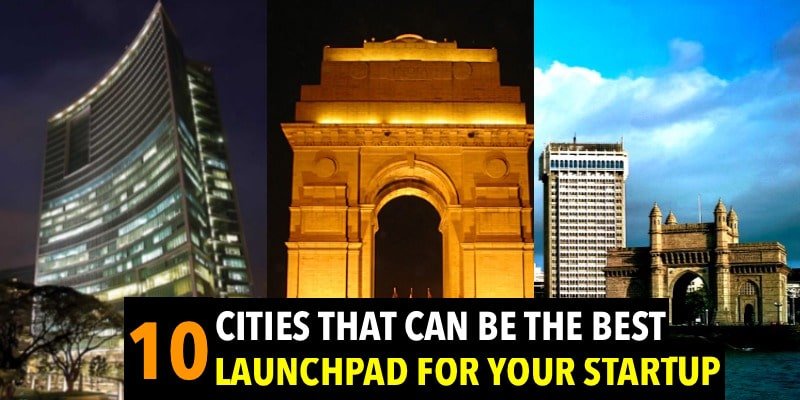 Small and Medium Enterprises play a vital role for the growth of Indian economy by contributing 45% of the industrial output, 40% of exports, 42 million in employment, create one million jobs every year and produces more than 8000 quality products for the Indian and international markets. The essentials for a small business hotspot include dealing with construction permits, employing workers, registering property, getting credit and paying taxes, etc, the report said.
Medium Small and Micro Enterprises (SMEs) have always been the backbone of an economy in general and secondary sector in particular. For a capital scarce developing country like India, SMEs are considered as panacea for several economic woes like unemployment, poverty, income inequalities and regional imbalances. Hence, for any budding startup is is very important to understand that geographic location of the startup can play a pivotal role for your venture.
Here is the list of 10 such cities which might prove to be the best launchpad for your startup, although not in the same order.
1. Bangalore
The Silicon Valley of India is the nation's largest IT services exporter. Major tech companies like Infosys, Wipro and ISRO are headquartered here. The country's leading educational institutes like Indian Institute of Science (IISc), Indian Institute of Management (Bangalore) (IIMB), National Institute of Fashion Technology, Bangalore, National Institute of Design, Bangalore (NID R&D Campus), National Law School of India University (NLSIU) and National Institute of Mental Health and Neuroscience are also based here. Add to that the vibrant night life. The city is bustling with a young and experimental crowd, who are open to trying new things and are open at experimenting with new trends. Hence, Bangalore is the hottest city to start you venture and can prove to be a great launchpad.
2. Delhi-NCR
National Capital Region ( Delhi-NCR) is the most admired location for most of the new Businesses. Because Delhi is the capital of India and NCR region is well-connected with all travel routes to Delhi and other major cities. It provides all the necessary infrastructure needed for your business to grow.  Delhi is the largest commercial centre in North India, and houses the country's largest and fastest growing retail industry. Construction, Power and health form vital components of the city's economy. Several consumer goods companies also have their headquarters in the city.Currently over 250 Fortune 500 companies call Gurgaon their home. Several international companies including Coca-Cola, Pepsi, IBM, American Express, Microsoft, and Bank of America have chosen the city as their India headquarters. Hence, it is only just to say that Delhi-NCR is one of the finest cities to set up your new venture.
3.  Hyderabad
Hyderabad is widely known as the City of Pearls, thanks to its reputation as a pearl and diamond trading centre. In 2009 the World Bank Group ranked the city as the second best Indian city to do business. Indian companies like Bharat Heavy Electricals Limited (BHEL), Defence Research and Development Organisation (DRDO), Hindustan Aeronautics Limited (HAL) and Centre for DNA Fingerprinting and Diagnostics (CDFD) are based here. Global conglomerates like Microsoft, Google, IBM, Yahoo!, Dell and Facebook. Major Indian enterprises including Tech Mahindra, Infosys, Tata Consultancy Services (TCS) and Wipro also have offices here. The city and its suburbs contain the highest number of special economic zones of any Indian city. These are mainly because Hyderabad city has been providing budget Infrastructure for all Business. Hence, Hyderabad is a great city to start your entrepreneurship journey.
4. Mumbai
Mumbai is India's financial and commercial capital. Many of India's top conglomerates including Larsen and Toubro (L&T), State Bank of India (SBI), Life Insurance Corporation of India (LIC), Tata Group, Godrej and Reliance, and five of the Fortune Global 500 companies are based in Mumbai. Although Mumbai has reached its saturation point, but places like Navi Mumbai and Thane can provide an option for new business start-ups.
5. Chennai
Small businesses like leather products, electroplating, retail, healthcare and wellness do well in Chennai. Currently, about 57 per cent of the total small and medium enterprises are captured by sectors such as retail, healthcare and education. Chennai is known as the 'Detroit of India' for its booming automobile industry. 30% of India's automobile industry and 40% of its auto components industry is based here. Hyundai, Renault, Robert Bosch, Nissan Motors, Ford, BMW and Mitsubishi have manufacturing plants here. So, if you are willing to set up a similar business then Chennai could be a great launchpad for your startup.
6. Kolkata
Kolkata is the prime commercial and financial hub of East and North-East India. Top Indian conglomerates like ITC Limited, Coal India Limited, National Insurance Company, Exide Industries and Britannia Industries are headquartered in the city. The city is also home to many industrial units operated by large public and private-sector corporations. Kolkata can provide all the required infrastructure that will is necessary to build a startup and that too at very reasonable prices.
7. Ahmedabad
Ahmedabad tops the list of cities for successfully running small scale businesses. It offers good scope for pharmaceutical, leather footwear, textile machinery parts, gems and jewellery health and wellness services.Gujarat, is among the most enterprising states and has witnessed the growth of micro, small and medium enterprises (MSMEs), product clusters and industrial estates-led growth. Ahmedabad is known as "Manchester of the East" for its textile industry. It's also one of the largest exporters of gemstones and jewellery in India. The Adani Group and Nirma have their corporate headquarters here.
8. Coimbatore
Coimbatore has two special economic zones (SEZ) – the Coimbatore Hi-Tech Infrastructure (CHIL) SEZ at Saravanampatti and TIDEL Park near Peelamedu. The city also has the second largest hub in India for Cognizant Technology Solutions and houses companies like IBM, Robert Bosch GmbH, Ford, Dell and Wipro. The city also has a large number of engineering colleges that produces lakhs of young engineers annually. Hence for any technology based startup looking out for the right place to start up their venture, Coimbatore can be a great option.
9. Bhubaneswar
Of late Bhubaneswar has been a booming trading and commercial hub in east India. Software firms like TCS, Wipro, IBM, Genpact, Firstsource and Mindtree have their offices here. Given this scenario, Bhubaneswar looks very promising as far as setting up a startup is concerned.
10. Jaipur
Jaipur the pink city is a preferred business location in Rajasthan. The infrastructure of the city is growing with every passing day. Jaipur is almost 6 to 8 hours drive from Delhi and well connected by Air, Trains, and highways with rest places of India. Jaipur, is famous for gems and jewellery, food products and garments. It comes second among all cities in terms of gems and jewellery manufacturing. Hence any startup that might have its business setup on these lines should definitely try Jaipur as the launchpad.